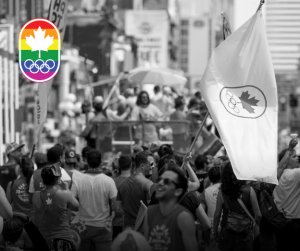 Get ready to show your colours, it's Pride Time! We have been invited to participate in this year's Pride Parade, which takes place on Sunday, June 3 in downtown Winnipeg! Athletes, coaches, and their families are welcome to join.
Here are the details:
• Date: Sunday, June 3
• Time: TBC – last year was ~10:30 am and left 12:30 pm
• Location: downtown Winnipeg (Exact drop-off point TBC)
• All participating athletes will be provided with a Canadian Olympic Committee Pride Hat.
• Please confirm participation to Emily ehrichard@gmail.com by May 23.
Here is a message from Rosie Cossar, 2012 Olympian in Rhythmic Gymnastics (under Manitoban coach, Zdravka Tchonkova): For the past 5 years, the Canadian Olympic Committee has celebrated Canadian diversity in gender and sexuality by showing our colours and marching in Pride Parades across the country. We are incredibly proud of our Canadian athletes who have shown such commitment to LGBTQ+ inclusion both on and off the field of play. This year, we are participating in Canada's biggest and most diverse Pride Parades including Toronto, Vancouver, Calgary and Montreal. In addition, we are expanding our support by participating in 5 other Canadian cities over the course of the summer, including Winnipeg, Manitoba! With our partnership with You Can Play having grown so much over the last couple of years, we expect to have a cohesive unit of both amateur and professional Canadian sport bodies included in each parade.
Our desire to expand our support of Pride Parades across Canada depends on your participation! The Winnipeg pride parade is taking place on Sunday, June 3rd 2018.
We look forward to seeing you there!