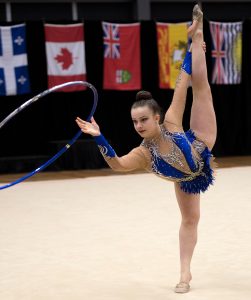 Congratulations to the gymnasts that have qualified and will compete at the 2018 Canadian Championships in Richmond, May 16-20. The competition is hosted by BCRSGF.
Novice: Aubrey Burns, Festina Teneqja
Junior: Anna Belle Richards, Anastasia Kurakin, Samantha Pfeil
Senior: Grace Francis, Mamie Kroeker-Tom, Kaedyn Lashley, Alexys Purdie, Alexandra Yarema
Coach – Emily Richard; Judges – Shari Hebert, Zdravka Tchonkova, Lisa Smyrichinsky; Manager – Josie Cosyns
The event will be live streamed on Gymcan.TV and live scores will be available on rgform.eu.